Features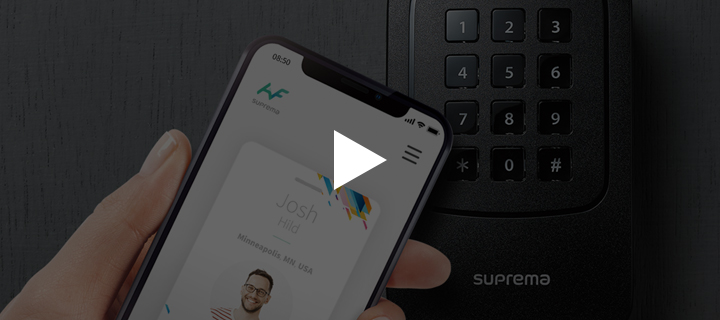 Contactless Mobile Solution

You don't need to carry an access card with you. Just tap your smartphone on a RFID reader and the door will be open for you.
It works when the smartphone is within a distance of 10 cm.
With Suprema's exclusive technology, it works without lighting up your smartphone screen.

* The function may differ depending on the mode you selected.
Remote & Online Management

Issuing and revoking access credentials becomes a lot easier as the entire process is moved online. Suprema Mobile Access shortens the card issuance period by directly sending you a download link for the app via email. Once you get the link, tap it and install the app on your smartphone. Using your own smartphone as an access credential, reduces the risk of loss and maintenance expenses that purchasing or replacing physical cards require. Remember, it is not a physical card, which means it is perfectly environmentally friendly.
Proven Security Performance

With Suprema's exclusive security solutions, the entire process is protected by ISO 27001 certified system. Users are less likely to handover their smartphones to other people, so it prevents unauthorized persons from entering your property.
High Performance with Two Technologies

Suprema Mobile Access supports both NFC and BLE for full compatibility with various types of smartphones. These two technologies are enabled in the background and foreground to communicate with an RFID reader seamlessly. With Suprema's enhanced technology, Suprema Mobile Access prevents unintentional openings by controlling BLE communication distance, allowing authentication in less than a second.
The Easiest Way
to Start Mobile Access,
Airfob Patch

To start Suprema Mobile Access without replacing card readers, simply attach Suprema Airfob Patch to the existing card readers. Suprema Airfob Patch enables communication between RF card readers and Mobile Access Cards by converting Bluetooth signal to RF card signal. The innovative patch-on device charges itself by harvesting energy from RF field signals.
Setting up Suprema Mobile Access
on your smartphone

1

Click the link you received via email to install Suprema Airfob Pass app on your smartphone.

2

After finishing setting up Suprema Airfob Pass, tap your smartphone on a RFID reader.




* 50 complimentary Mobile Access Cards are given upon registration. (Only for Regular Type)
Suprema Mobile Access Tutorials
Get your smartphone ready for
Suprema Mobile Access
Integrated Mobile Access Management

Working with Suprema Airfob Portal and Suprema devices, provides seamless customer experience without interference from the third-party portal or readers. Suprema's In-App SDK also helps to integrate your own app with the mobile access card.
Configuration
| | |
| --- | --- |
| Network | Bluetooth 4.2 or later, NFC |
| Security | ISO 27001 certified |
| Encryption | AES-256, Host card emulation (HCE) |
| Distance/range | ~10 cm (It may differ depending on smartphones) |
| Supported smartphones | iOS 7.0 or later, Android 9.0 or later |
Supported Products