The following editorial was published in asmag.com. Link to the original article here.
Earlier this year, Suprema released BioStation 3, a highly advanced facial recognition access control system with enhanced security, efficiency and scalability. This article looks at what's new with the solution and what benefits it offers to users.
In keeping with post-COVID contactless trend
BioStation 3 is the newest edition to Suprema's flagship BioStation series. First unpacked in Intersec 2022, BioStation 3 is an upgrade to its predecessor, FaceStation F2, and is especially designed for the post-COVID era, where demands for facial recognition and other contactless technologies are stronger than ever.
"BioStation 3 is in line with the new paradigm of post-COVID access control, where facial recognition is now the preferred access credential over fingerprints. It provides higher accuracy, faster recognition speed and a lower false acceptance rate even with faces covered with masks of various shapes and colors," said Hanchul Kim, CEO of Suprema. "Facial recognition, face template on mobile, mobile access, QR/barcode and RFID card credential options are provided. All credentials are contactless and perfectly compatible in a post-pandemic world."
Accurate and fast facial recognition
BioStation 3 features facial recognition with high accuracy and speed. This is critical for end user entities, such corporations, and enterprises, that need to authenticate large numbers of people in a short time. For them, BioStation 3 offers an ideal solution with a false acceptance rate of 1 in 10 billion and 50,000 1:N face authentication in 0.3 seconds, all made possible by cutting-edge AI run on a powerful processor.
"BioStation 3's AI algorithm for facial recognition is embedded on a Neural Processing Unit (NPU), the most advanced AI processor for deep learning. It features improved facial recognition speed, accuracy and fake face detection, as well as low false acceptance rates even for people wearing masks, glasses, hats, beards and different hairstyles," Kim said.
Support of multiple credentials
As mentioned earlier, multiple credential options are provided by BioStation 3, which supports facial recognition, RFID cards and mobile access. Suprema has also added support for QR codes and barcodes, allowing users to choose whichever credential that is most convenient for them.
According to Kim, another key benefit of multiple credentials support is contribution to a better and cleaner environment, to which Suprema attaches a great importance.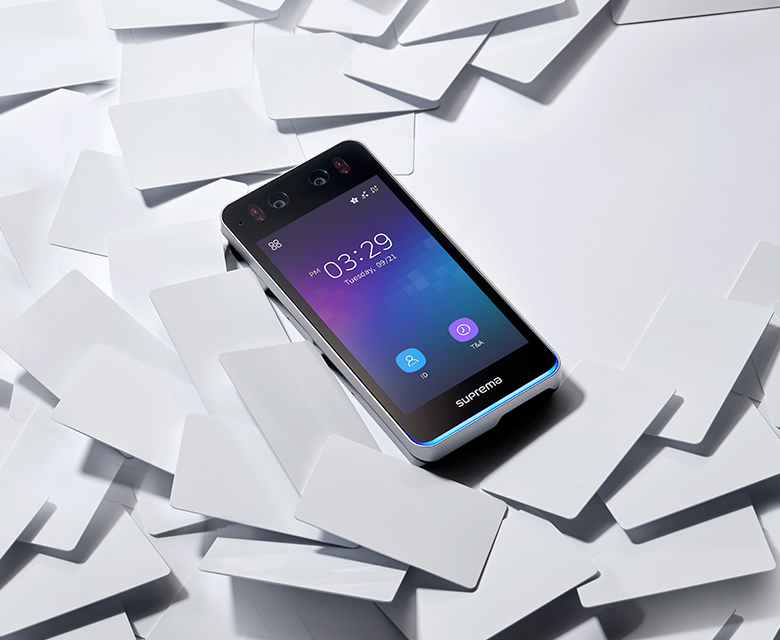 "Annual production of plastic RFID cards is equal in mass to about 900 family sedans. Cards are difficult to recycle and mostly end up in landfills or oceans. In 2021, CO2 emissions resulting from decomposing plastic waste was 1.8 billion metric tons, which is equal to the total CO2 emissions of 900 thermal power plants," Kim said. "BioStation 3 can replace RFID card issuance with multiple credential options. Facial recognition, mobile access and QR/barcode options reduce the cost, labor and environmental impact of issuing physical RFID cards. This makes it possible to stop the reckless issuance of plastic RFID cards, leading to reduced environmental pollution and operational expenses, along with higher security by preventing false access when a card is stolen or lost."
Cybersecurity and privacy features
Suprema is highly committed to cybersecurity and privacy protection, and this commitment is reflected in BioStation 3.
"In order to comply with strict privacy regulations such as GDPR, Suprema developed a new 'face template on mobile' technology for facial recognition. It lets users enroll into an access control system and store their biometric face profile directly on their own mobile devices. This gives the users complete control over their own ID and private information. Since the biometric data is not saved in the company's database, users feel safe being able to save and manage their biometric and personal data by themselves. This is especially important in Europe, where personal data is considered to be extra-sensitive information," Kim said. "Additionally, BioStation 3 is ISO/IEC 27001–certified to protect privacy and biometric data. It is embedded with Secure Element (SE) to prevent cyberattacks and has completed penetration testing security checks."
Slim design, easy installation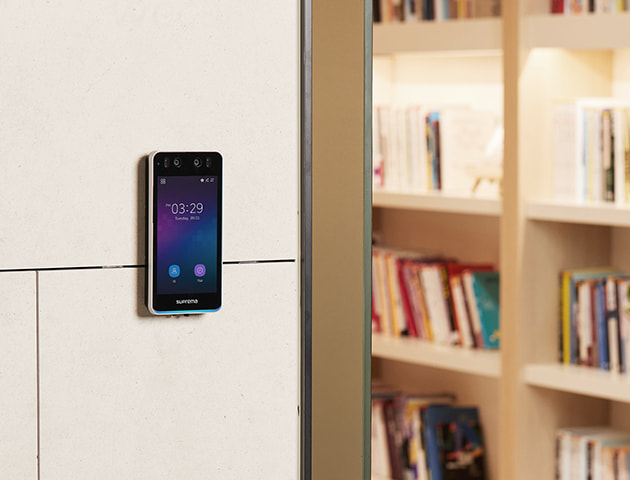 Design-wise, even though BioStation 3 provides advanced enterprise features, it has a smaller and slimmer form factor that fits well with the user's environment. "The size of the terminal has been reduced 47 percent compared to the previous FaceStation F2 model. While BioStation 3 terminal sizes are smaller than previous models, they contain the largest variety of features. With a slim and compact design, it blends in well with any kind of door," Kim said.
Furthermore, BioStation 3 suits a range of end user entities, is easily installed, and integrates well with other security systems.
"Users can secure their buildings according to their needs, budget, and installation environment, because BioStation 3 provides both cost-effectiveness and scalability.
It not only fits well on small office doors but can also scale to support enterprise buildings. Wi-Fi and PoE+ features enable less wiring and quick installation," Kim said. "Also, custom USB hosts help to easily add new features such as thermal cameras. BioStation 3 makes access control easy with a VoIP Intercom that enables seamless communication with all doors at anywhere, anytime and RTSP (Real Time Streaming Protocol) support for video monitoring."
Final word
In September 2020, Suprema established itself as a premium brand with FaceStation F2, a facial recognition technology embedded with a deep-learning AI algorithm. Now Suprema has launched BioStation 3, which one-ups its predecessor with fast and accurate facial recognition, support of multiple credentials and a slim design that fits well with different doors. With demands for contactless solutions rising in the post-pandemic era, we can expect BioStation 3 to see high growth and market acceptance in the years to come.